Overview Description Prepayment Features Device Features Free Trial
Overview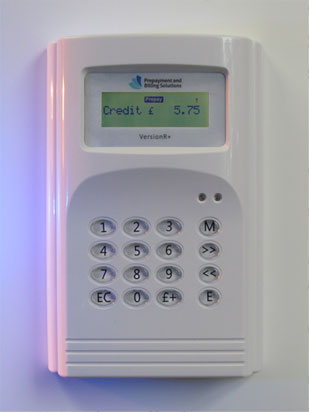 The VersionR is a range of prepayment energy devices that are simple to install and operate.
They provide the complete cost effective and comprehensive solution for scheme owners and operators.
A modern, stylish design, with a backlit display showing the credit position, in £ and p, allows users to easily monitor their account status.
Designed to be easy to use in the real world, the VersionR packs a high specification with an exceptionally attractive purchase price.
Some of the key features and benefits of the VersionR and VersionR+ include:
Back-lit, multi-function display
Low operating costs
No prepayment cards
Multiple customer top-up facilities
Use of the Pay Point network with over 27,000 outlets
24/7 automated telephone payment and service facility
Description
The VersionR specification has been designed and developed by people who understand the requirements of prepayment devices. Features such as dedicated "Hot-keys" that allow users' direct access to the most frequently used commands – the adding credit screen and emergency credit (if available) - are typical of the comprehensive design of the VersionR units.
The VersionR offers a 2-part tariff which includes for a daily standing charge as well as a unit rate. With operator definable "Emergency Credit" and/or the use of "social cut-off" abatement (operator definable hours when users will not be 'switched-off' if their credit runs out) which includes Christmas Day, Boxing Day and New Years' Day, allows scheme owners and managers flexibility in the services they wish to provide to their customers. With a visual low credit warning, VersionR prepayment devices remind the user that they should promptly add additional credit to avoid cessation of supplies.
All Customer interactions are through a "hard" or real keypad with built in "hot keys" allowing users direct access to the functionality they need. Additional information such as meter reading, current tariff and operational setting can be viewed on the multi-function display.
Purchased credits are added using a security encrypted PIN. Encryption and built-in security (tamper detection) help reduce fraud and improve scheme financial performance. The units connect to either the MBus or pulsed output from a heat (energy) meter which will deduct a prescribed amount of credit from the users "account balance".



The Version R range have been featured online and in the Housing Association Magazine.

Click here to download the featured article.
The VersionR+
The VersionR+ adds wireless communications to the standard VersionR unit. Using the GSM mobile network, direct communication to each unit allows for purchased credits to be added directly to the users unit. Meter reading and system operational data can be read back to monitor the performance and integrity of the prepayment energy meters.
Key Prepayment Features
| | | |
| --- | --- | --- |
| Key Prepayment Features | Version R | Version R+ |
| No prepayment cards | | |
| Multiple customer top-up facilities | | |
| Accepts Pulse and MBus inputs | | |
| Discretionary "Crisis" top-up facilit | | |
| 2-Part tariff (unit rate and daily standing charge) | | |
| Emergency credit facility (definable values) | | |
| Social cut-off abatement (definable periods, plus Xmas Day, Boxing Day, and New Year's) | | |
| "Low-credit" warning indication | | |
| Tamper detection with visible indication | | |
| Void setting feature | | |
| Back-lit, multi-function display | | |
| Tariffs input with credit PIN | | |
| Key-pad input (all inputs are encrypted to prevent fraud) | | |
| Easy retro-fit into legacy systems | | |
| Low operating cost | | |
| Wireless communication directly to and from the unit | | |
| Credit added directly over air | | |
| System audit of key operational data (MBus meter installations only) | | |
| Tamper alerts | | |
| Over-air update functionality | | |
| | | |
| --- | --- | --- |
| Customer Top-Up Provisions | Version R | Version R+ |
| Use of the Pay Point network of 27,000+ outlets | | |
| "Online" using dedicated portal | | |
| 24/7 automated telephone payment and service facility | | |
| Bank Standing Order etc | | |
Device Features
| | | |
| --- | --- | --- |
| Key Device Features | Version R | Version R+ |
| Main powered supply at 230 V ± 10%, 50 Hz | | |
| One relay which opens upon expiry of credit | | |
| Unit accepts one pulsed input or one MBus input | | |
| Commissioning and set-up menu | | |
| Meter Reading displayed on the unit (MBus Installations) | | |
| PPU to retain PIN transaction history | | |
| Battery back-up of key data | | |
| 230V output from the PPU | | |
| Programmed Void setting for scheme operator | | |
| Operator defined "emergency or stand-by credit" and/or Social cut-off abatement | | |
| Standing charge taken in 1/10th across the day to avoid "sudden disconnection" | | |
| Tamper alert with visual notification (Red LED light on the front of the unit) | | |
| ENE3 code for sustainable home compliant display | | |
| Remote mode change and resetting of units | | |
| System audit function | | |
| Remote meter reading and system status | | |
| Over-air update functionality | | |
Free Trial